Soundtrack
"GTA: Liberty City Stories will feature celebrity voice acting and several radio stations with licensed tunes."
EGM Magazine
Several radio stations (all with licensed tunes) will feature in Liberty City Stories. All GTA3 stations will feature, including a brand new "world music" station. There is great potential for an MP3 station, similar to that of the PC versions of GTA3, GTA Vice City and GTA San Andreas, although nothing has been confirmed.
"There are two ways of playing music through the PSP: via Memory Stick or the Universal Media Disc format. It's still early days yet, but Sony has already signed deals with entertainment companies all over the world to ensure the release of music UMDs. In the UK, Sanctuary Visual Entertainment, the world's largest independant music group, has prepared a range of UMD music videos for the PSP launch. These will be from classic artists like Bob Marley, INXS and Iron Maiden, although new releases will follow. The big advantage over regular compact discs is that UMD can also hold video footage. Rather than merely delivering audio, UMD will be an MTV version of the CD - you don't just listen to the music, you watch it too. Whether you want to save game data, photos or music on your PSP you'll need a Sony Memory Stick."



-- PlayStation Portable, The Official Guide Book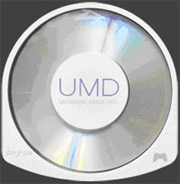 Univseral Media Disc (UMD)
A step-by-step guide to getting MP3s from your PC to your PSP (courtesy of "PlayStation Portable - The Official Guide Book").
Insert a Memory Stick Duo or Memory Stick PRO Duo into the slot on the left of your PSP.
Connect one end of a USB cable to the USB port at the top of the PSP and the other end to one of your PC's USB ports.
Go to your PSP's "Settings" and select "USB connection" to activate the USB link to your computer.
A Removable Disk icon will appear in your PC's "My Computer" folder representing the Memory Stick. Click on it.
A number of folders appear. Click on the PSP folder then click on the Music folder to access your PSP's music storage.
Now simply drag MP3s from your computer into the Music folder to store them there.
Close the folders, right click on the Memory Stick icon and select "Eject" to safely disconnect it.
Choose your PSP's Music operation and you'll be able to play any of the music files you've just transferred.
Track Listings
LCFR



Format: Talk Radio
Shows:
- Heartland Values With Nurse Bob
DJ:Nurse Bob

- Electron Zone
DJs: Steve & Bill

- Breathing World
DJs: Lee Chowder & Crow

- Coq �O� Vin
DJ: Richard Goblin

- Chatterbox
DJ: Lazlow


HEAD RADIO



Format: Pop Rock
DJ: Michael Hunt
Track Listing:

�Train�
Conor & Jay

�The One For Me�
Cloud Nineteen

�Take The Pain�
Purser

�Free Yourself�
L-Marie featuring Raff

�Drive�
15 Ways

�Welcome To The Real World�
Rosco Stow

�Keep Dreaming�
Vanilla Smoothie


LIPS 106



Format: Dance Pop
DJs: Cliff & Andee
Track Listing:

�Funk In Time�
Rudy La Fontaine

�Love Is The Feeling�
Sawarr

�Mine Until Monday�
Sunshine Shine

�Get Down�
Credit Check

�Tonight�
Cool Timers

�Bassmatic�
Nina Barry

�Into Something (C�mon Get Down)�
The Jackstars


DOUBLE CLEF FM



Format: Classical
DJ: Sergio Boccino
Track Listing:

�Il Trovatore: Anvil Chorus�
Composed by Giuseppi Verdi
Performed by Nuremberg Symphonic Orchestra & Munich State Opera Choir

�Il Trovatore: Tacea la notte placida�
Composed by Giuseppi Verdi
Performed by Nuremberg Symphonic Orchestra & Munich State Opera Choir (Eva Illes, Soprano)

�Nabucco: Chorus of the Hebrew Slaves�
Composed by Giuseppi Verdi
Performed by Philharmonia Slavonica

�Cosi Fan Tutte: E amore un ladroncello�
Composed by Wolfgang Amadeus Mozart
Performed by Bratislava Opera Soloists, Choir and Orchestra (Ida Kirilova "Dorabella")

�Marriage of Figarro: Overture�
Composed by Wolfgang Amadeus Mozart
Performed by London Philharmonic Orchestra

�I Pagliacci: Vesti la guibba�
Composed by Ruggiero Leoncavallo
Performed by Nuremberg Symphonic Orchestra


RISE FM



Format: House / Techno
DJ: Boy Sanchez
Track Listing:

�Sing It Back (Boris Musical Mix)�
Moloko

�Free�
Ultra Nate

�I Believe�
Happy Clappers

�House Music�
Eddie Amador

�Feel What You Want�
Kristine W

�Hideaway (Deep Dish Vocal Remix)�
De�Lacy

�Spin Spin Sugar (Armand�s Dark Garage Mix)�
Sneaker Pimps

�Plastic Dreams�
Jaydee

�Altered States�
Ron Trent

�There Will Come A Day (Half Tab Dub)�
The Absolute featuring Suzanne Palmer

�Positive Education�
Slam

�Flash�
Green Velvet

�Circus Bells (Hardfloor Remix)�
Robert Armani

�Higher State Of Consciousness�
Wink


RADIO DEL MUNDO



Format: World Music
DJ: Panjit Gavaskar
Track Listing:

�Raghupati (Folk Tune)�
Ananda Shankar

�Dum Maro Dum�
Asha Bhosle

�Neeve Nanna (Only You Were Mine)�
Vijaya Anand

�Kidda�
Natacha Atlas

�Hebeena Hebeena�
Farid El Atrache

�Aini Bet Ref�
Ahmed Mneimneh

�Im Nin�Alu�
Ofra Haza

�Ballaa Tsoubou Hal Kahwa�
Samira Tawfic


K-JAH



Format: Reggae
DJ: Natalee Walsh Davis
Track Listing:

�Pick a Sound�
Selah Collins, Ruddy Ranks, Redeye

�What a Wonderful Feeling�
Errol Bellot, Ruddy Ranks, Redeye

�Watch How the People Dancing�
Kenny Knots, Ruddy Ranks, Redeye

�Lean Boot�
Richie Davis, Ruddy Ranks, Redeye

�Ready For the Dancehall Tonight�
Peter Bouncer, Ruddy Ranks, Redeye

�You Ha Fe Cool�
Richie Davis, Ruddy Ranks, Redeye

�Ring My Number�
Kenny Knots, Ruddy Ranks, Redeye

�Run Come Call Me�
Kenny Knots, Ruddy Ranks, Redeye


THE LIBERTY JAM



Format: Hip-Hop
DJ: DJ Clue
Track Listing:

�All I Need�
Method Man

�Shook Ones Pt. II�
Mobb Deep

�Incarcerated Scarface�
Raekwon

�N.O.R.E.�
Noreaga

�Shut �Em Down (Remix)�
Onyx featuring Noreaga & Big Pun

�Beware�
Big Pun

�Twinz (Deep Cover 98)�
Big Pun

�Get At Me Dog�
DMX featuring Sheek of The Lox

�Ruff Ryders Anthem (Remix)�
DMX featuring DJ Clue, Jadakiss, Styles, Drag-On & Eve

�Do What You Feel�
Redman featuring Method Man

�Chain Gang Freestyle�
The Lox & Black Rob

�Chest2chest Freestyle�
The Lox


MSX 98



Format: Drum n Bass
MC: Codebreaker
DJ: Timecode
Track Listing:

�Renegade Snares�
Omni Trio

�Terrorist�
Renegade

�Finest Illusion (Legal Mix)�
Foul Play

�Living For the Future (FBD Project Remix)�
Omni Trio

�Stay Calm (Foul Play Remix)�
DJ Pulse

�Disturbance (Tango Remix)�
Hyper-On Experience

�Cold Fresh Air�
Higher Sense

�Living For the Future�
Omni Trio

�Thru The Vibe (2 on 1 Mix)�
Omni Trio

�The Helicopter Tune�
Deep Blue

�Dred Bass�
Dead Dred


FLASHBACK FM



Format: All Giorgio Moroder Station / Early Electro
DJ: Reni Wassulmaier
Track Listing:

�First Hand Experience In Second Hand Love�
Giorgio Moroder

�I Wanna Rock You�
Giorgio Moroder

�E=MC2�
Giorgio Moroder

�Chase�
Giorgio Moroder

�I'm Left, You're Right, She's Gone�
Giorgio Moroder

�From Here To Eternity�
Giorgio Moroder