Features
During an interview, Sam Houser spoke fondly of Rockstar's willingness to go in new directions, so a title developed for Sony's new PlayStation Portable system was inevitable. It's true that the PSP is less than half the size of a PlayStation2 console, but that doesn't make Grand Theft Auto: Liberty City Stories any less enjoyable. Rockstar have crammed everything you can imagine onto the tiny UMD disc using various new compression techniques – so while everything that contributes to Grand Theft Auto's uniqueness is included, it still maintains the high quality of gameplay we're used to.
We're back in Liberty City, the place where it all began. Set three years prior to the events that took place in Grand Theft Auto 3, Liberty City is a bit different from what we're used to and now heavily corrupt. For example the beloved Porter Tunnel, a lifesaver when trying to get from one end of town to the other, is no longer present and has been replaced by ferries and bickering union workers. This, however, is just one of many changes to the setting that add a sense of realism.
Liberty City is a big place, and getting from one side of town to another is not an easy business. You'll need some effective methods of transport, and Liberty City Stories offers just that. Cars, convertibles, elevated trains, subway and boats – all of which were featured in Grand Theft Auto 3 – are available in Liberty City Stories. But LCS introduces two new methods that weren't seen in GTA3. Ferries, and, you guessed it. Motorbikes. As far as the GTA3 trilogy goes, we weren't able to experience motorbikes until GTA Vice City. There is a story behind their disappearance in Liberty City-2001, which is explained during the game's storyline.
"The clothing system is not as complex as GTA San Andreas, it's more like the one seen in GTA Vice City."
Appearance is paramount when you're working for the mob. You'll need a hand-made silk Leone suit tailored in Portland in order to impress the boss. The clothing system is not as complex as GTA San Andreas, it's more like the one seen in GTA Vice City. The mix n' match scheme has been abandoned, and instead you have several complete outfits to choose from: "Goodfellas" for when you're trying to impress the ladies, "Antonio" for when you are enjoying some of Ma's Italian food, and "Sweats" for during exercise.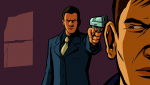 At last, Grand Theft Auto goes multipayer. GTA1 and GTA2 both featured a very simple multiplayer mode, but the multiplayer witnessed in Liberty City Stories is by far the most extraordinary. Up to six players can take part in the seven available game modes, with each mode offering a different objective and over sixty unlockable characters. LCS supports multiplayer over Ad-Hoc using the PSP's WiFi connection, and the freedom of single-player mode is maintained. Rockstar have considered all multiplayer gameplay issues - such as time and ammo limits - and they have countered these problems through such features as unlimited sprint and regular weapon pickups. 3D multiplayer is every Grand Theft Auto fan's dream, and this, over anything else, is what's likely to draw customers towards buying the game.
"you could say that this is the best system any Grand Theft Auto game has seen"
In the Grand Theft Auto series, weapons and targeting schemes have been variable, but as you'd expect, the system gains strength as the developers gain more experience. As with all Grand Theft Auto games, there is a vast selection of weapons to choose from. The targeting system is an improved version of what we saw in GTA San Andreas, so you could actually say that this is the best system any Grand Theft Auto game has seen. There are two ways of targeting your enemy – auto aim and precision aim – and together with the comfort of the PSP's control scheme, make blasting your enemies an ease.