News for August, 2005
Tuesday, August 23, 2005
Posted by
adamcs
at
14:58
. Category:
General
US retailer Walmart have revealed what appears to be the official packshot for Liberty City Stories. Also note the game's "Mature 17+" rating (on the Walmart site, that is).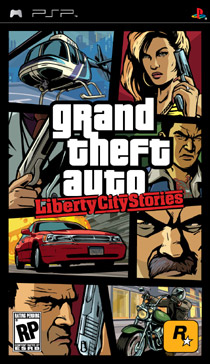 GTA: Liberty City Stories Official Boxart
The update was discovered by TheDude5000.
Saturday, August 20, 2005
Posted by
adamcs
at
14:44
. Category:
General
This was shown at the bottom of Rockstar's latest broadcast email for subscribers:
If you would like to subscribe to the mailing list, send a blank email to to [email protected]. Keep an eye on this page for all the latest Liberty City Stories updates and developments.
Friday, August 05, 2005
Posted by
adamcs
at
17:07
. Category:
General
The september issue of Games Master (UK) has a nice 2-page roundup of Grand Theft Auto: Liberty City Stories.
"Best of all, the game is due out this September, just after the PSP launch."

"Firstly they've [Rockstar] realised that the missions can't be 10-minutes-or-more stamina tests. They must intense, punchy and to the point - you can't be faffing around if you've got a bus to catch. Also the onscreen info (for example the weapon selection and the map) has been made semi-transparent to maximise the amount of Liberty City that can be seen on the screen."
At the back of the magazine, Games Master advertise their next issue (on sale August 25th) and they claim to get "the world's first play" of Liberty City Stories. We'll see, stay tuned.
Also this month, from the creators of Official PlayStation2 Magazine UK comes "PlayStation Portable - The Official Guide Book" - an impressive 130 page guide to the PSP with info on music, games, movies and more.
"You can actually use your MP3 collection as a soundtrack with certain game titles - which'll put an end to you listening to the same bits of in-game music."

"It's known that certain parties, including Sony themselves, are working on a number of applications for PSP."

"With PSP's Wi-Fi switch turned on, you simply select a multiplayer mode and the game automatically detects other players in the area."

"The PSP initially aims to replace you Game Boy. But next, it wants you to stop using your iPod. Then it won't be happy until your PDA is gathering dust..."
Keep an eye on this page.
Thursday, August 04, 2005
Posted by
adamcs
at
11:28
. Category:
General
The latest issue of PSM contains preview of GTA Liberty City Stories. Most details were already known, but here are just a few of the new things we learned:
Like Tommy Vercetti and Claude, Ton Cipranii cannot swim.
There is no interior environment.
Liberty City Stories uses an improved version of San Andreas' targetting system.
Three years before Sex Club 7 became the place where Luigi (Joe Pantoliano) gave work to the mute GTA 3 protagonist, the strip club was called "Paulie's Revue Bar".
But the following line was without a doubt the highlight of the article:
"To sweeten the deal even more, GTA Liberty City Stories will support downloadable content. More vehicles and/or weapons , more outfits, more songs more missions!"
No further details were given, but we'll try and get in touch with PSM and R* to find out more. Check back soon for all the latest news and updates, and also our own Liberty City Stories website which is currently being developed.
Related Links: GTAForums Topic
Return to Archive.